Books
A selection of interesting coffee table additions.  Note Service Manuals are located under…..Service!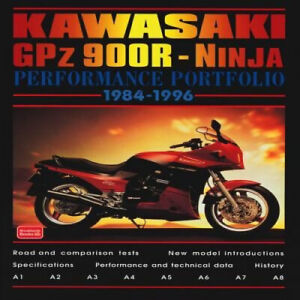 Kawasaki GPz900R Performance Portfolio
A great collection of journalist articles & reviews from A1 to A8 from magazines all over the world, and IMHO is an excellent way to get a true insight into the impact of the bike back in 1984.  It also includes excellent technical detail including an article JUST about the GPz's cooling system.
As a collection it does remind me of a my own childhood scrapbooks (car mag articles), a bit mish-mash with no smooth transition between articles and some have been scaled down to fit so the font is really compressed and  quite small – and I don't use reading glasses.  The print quality is also a bit dodgy, a few pages of mine are very washed out – if it were a bike mag I'd be flicking through another before I bought it.  But all that said – if you love information on the GPz this is a cracking purchase, I have only found TWO of the articles online.
This link is to the publisher site (note search for 'Ninja' or 'GPz 900r'  – you need the gap!) however you can also source this soft-cover book on eBay etc.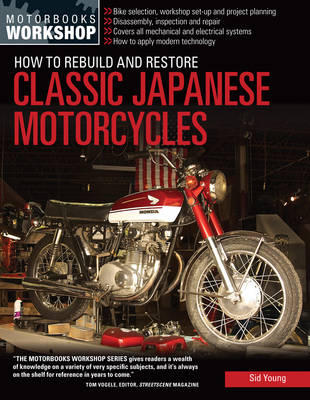 Sid Young - restoring classic japanese bikes
Sid has shared his expertise both online (YT videos) and published his own reference book to restore these bikes.  
GPz900R (ZX900) Database
Number of owner contacted & confirmed bikes.
About the Site
My family loves older vehicles, the newest one we own is 2003!  But I am acutely aware of the ownership complexities especially:
they often need more 'hands-on' mechanical work &;
there often isn't any local expertise from the service centres;
there is often no new parts available from the manufacturer;
parts often have to be sourced 2nd-hand or from overseas.
So we often end up doing a lot of the research & work ourselves and this information gets stored either locally with the bike or online forums - although finding the useful parts in these forums isn't always simple.
The original goal of the site was simply somewhere for me to record service work & contacts on my GPz900r so that my kids (the one that likes bikes anyway!) could easily access it - it doesn't concern me if it was publicly available.
I then realised that with this online structure in place I could also offer it to other owners, and the site could potentially expand to record other owners experiences and expertise , meaning we can learn from others but also pass on this knowledge to subsequent owners of these wonderful motorcycles.
At least Covid-19 has given me plenty of spare time to pursue my passion for the motorcycle!
Location
Adelaide
South Australia
Email
gpz900r@motoshoot.com.au
Timeline
1983 - Honda XR200
1984 - wanted a GPz
1985-2013 - cars+family
2014 - finally got one!
Disclaimer
The information provided on this site (or links) is personal experiences from non-professional home-mechanics, so neither it's accuracy nor it's validity can be confirmed.  If you need professional advise please visit your local Kawasaki dealership or a qualified industry professional.
Like riding any motorcycle, at the end of the day the only opinion that really counts is your own!