Service Manuals
Resources for working on your bike with notes from users.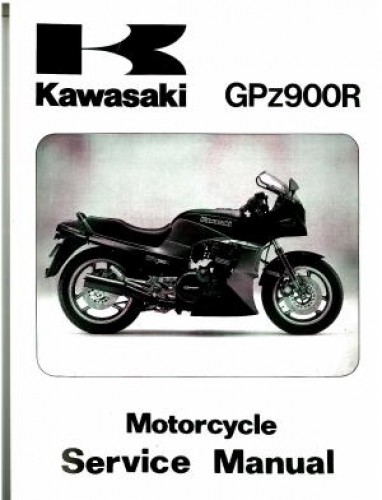 Rating: 9.5/10
Honestly you simply have to get one of these, there is nothing quite like a proper manual. The manual was re-released with subsequent (11) versions of the bike so later ones include extra supplements. So if you have a later bike make sure you get one that includes your bike. Examples below.
PN: 99924-1048-05  covers 1984-1990 (up to A7)
PN: 99924-1048-07 covers 1984-1993 (up to A10)
PN: 99924-1048-11 covers 1984-2003 (up to A16)
Manual Notes
Sean J. notes that the testing procedure for coils will always return a fault.
Rating 7/10
As it covers different bikes and may group the different versions together these will never be as accurate nor comprehensive as the factory service manual.  Although the cover of my copy says up yo 1997 the GPz models covered are specifically noted inside the manual as:
UK – April 1984 to 1996
US – Nov 1983 to 1986
So although this covers their official release dates in the states I'm pretty sure there are later bikes over there as well so this manual may not cover these.
However they are considered a good compliment, the Haynes is considered to have less detail than the Clymer. More information posted as it becomes available
Rating ?
Like the Haynes it covers different bikes and may group the different versions together so will never be as accurate nor comprehensive as the factory service manual.  The Clymer front cover does say it covers bikes up to 2001 or A14 – not confirmed though.  The Clymner is considered to have more detail than the Haynes but there are concerns as to the accuracy of torque settings.
GPz900R (ZX900) Database
Number of owner contacted & confirmed bikes.
About the Site
My family loves older vehicles, the newest one we own is 2003!  But I am acutely aware of the ownership complexities especially:
they often need more 'hands-on' mechanical work &;
there often isn't any local expertise from the service centres;
there is often no new parts available from the manufacturer;
parts often have to be sourced 2nd-hand or from overseas.
So we often end up doing a lot of the research & work ourselves and this information gets stored either locally with the bike or online forums - although finding the useful parts in these forums isn't always simple.
The original goal of the site was simply somewhere for me to record service work & contacts on my GPz900r so that my kids (the one that likes bikes anyway!) could easily access it - it doesn't concern me if it was publicly available.
I then realised that with this online structure in place I could also offer it to other owners, and the site could potentially expand to record other owners experiences and expertise , meaning we can learn from others but also pass on this knowledge to subsequent owners of these wonderful motorcycles.
At least Covid-19 has given me plenty of spare time to pursue my passion for the motorcycle!
Location
Adelaide
South Australia
Email
gpz900r@motoshoot.com.au
Timeline
1983 - Honda XR200
1984 - wanted a GPz
1985-2013 - cars+family
2014 - finally got one!
Disclaimer
The information provided on this site (or links) is personal experiences from non-professional home-mechanics, so neither it's accuracy nor it's validity can be confirmed.  If you need professional advise please visit your local Kawasaki dealership or a qualified industry professional.
Like riding any motorcycle, at the end of the day the only opinion that really counts is your own!