History of Bike
Owner supplied information
2013 - Current Owner
Owner (FaceBook): Adrian Kemp
Purchased (Gumtree I think) in September 2014 for $1800 done 48,327km.  Absolute bargain.
In 1984 I was 18 and working in the country riding a Honda XR200.  Heaps of fun, but glad it didn't go that fast because both I and the bike spent a lot of time on our arses!  I never really figured out how to jump the darn thing.
The only insight into road bikes or exotic cars was from the local newspaper magazine racks.  But even I remember seeing it appear on a cover – it was truly breath-taking, like nothing else I had ever seen.  I immediately wanted one and was going to ride it around Australia.  Of course I had zero cash (pubs) and you really needed a set of wheels to cart  around your mates & impress the girls.   So the GPz faded from view.
After owning some pretty fancy cars (inc. track-days & hill-climbs) I eventually came to recognise a fundamental flaw with a performance car, even a supercar.  The problem is the better the car, the faster you need to drive it to appreciate it.  Catch 22.  In my old age I now realise just how much pure fun the Fiat X1-9 is.  You rev the crap out of it, there's noise, vibration and it's so tiny you feel like you are speeding but in reality only driving at legal speeds.  It's tiny and it is a serious handling little machine, I read in 1978 only the Porsche 911 Turbo could generate higher cornering G's.  These little cars are simply great fun.
So I sold the supercar for a shed!
But whilst I love my family car (BFPOS -Big Fat Piece of Shit according to the better half!) that can carry the family thousand's of km's (Adelaide to Brisbane) in spacious comfort and in stifling heat (45C at Dubbo) as a driving experience it is somewhat limited.
So I needed something small & not too expensive, modifying & owning fancy cars like the Esprit burnt a big hole in my pocket I'm still sewing up.  Hmmm, why not a bike?  I quite liked the Triumph 675, but when a GPz turned up there was simply no comparison.   So 30 years later she finally arrived in my driveway.
Deep dish seat
Found this in Adelaide on Gumtree.  No idea of the brand nor where it came from, similar seats are available in NZ and Japan but expensive (+AU$600).  It had never been used and fits perfectly, although with the slightly taller Motobatt batteries had to trim the tongue a little to get it to fit.  Drops your seat height by around 40mm and makes a huge difference when riding as it significantly reduces forward/rearward sliding.
Of course there is less padding in the seat so the firm ride of the bike becomes even firmer.
Dynotek coils
When tracking down an electrical problem (turned out to be alternator) I reached the point of simply trying to isolate good from bad so replaced the coils and leads with a Dynotek kit.  Kit included two coils, leads and plug boots and when I measured up the lengths the supplier cut & fitted the boots for no extra charge.  Coils came in 2.2 or 3Ω variants which is a little confusing as the OEM spec ranges from 1.8-2.8Ω.  Supplier originally gave me the 3Ωl version but I exchanged for the 2.2Ω….though honestly I don't really think it really matters.
This link suggests it isn't really a big issue!
The bike runs fine with these, but of course this could simply be due to new leads and connectors.
Rear Mudguard/Plate Light
Most of us know that there are two rear mudguards for the bikes – a long & a short one.  Even though in Oz we have the short one it's still pretty big.  So from the side I have trimmed away excess material – there really isn't any structural need for this.
And I've never liked the OEM plate light, IMHO it just looks like an afterthought.  I picked up one of these from Repco,  nice clean design with the top housing only 25mm deep – twin LED and fully ADR compliant. . Only problem is it's designed for a full-size plate, bikes have a significanty smaller one.  So this did require cutting out the central section and plastic-welding it all back together.  I even brought it in smaller than the plate width because IMHO it looks a liitle sleeker.  Very happy visually with the result and it's tucked in nice and neatly below the rear brake light.
Radiator & fan
The bike had the manual fan switch over-ride but would still overheat on a hot day in slow traffic.  In Jan 2021 replaced my OEM radiator with a cheap (AU$150) chinese copy widely available on eBay – not leaking so far.  There has been a mixed response to these on forums, some consider them terrible others perfect.
Mine didn't fit without modification and even now only has one top bolt actually in place as the holes don't match properly (cable clamp).  But you get what you pay for, I would expect the $700 ones from Japan to fit better….
As well as this I replaced the OEM fan with the much larger one from the GPZ1000RX.  It fits on my bike (thought it's tight and might depend on your header design) basically just cut off and replaced two of the mounting brackets to fit the OEM radiator mount points.  As this does not have a shroud there is a risk (happened to others) of melting the fan blades so I need to switch it on when moving, but the result has been impressive, absolutely no issues driving through a traffic jam on a +40°C day.  IMHO the fan is the MAJOR reason for the cooling system improvement at low airflow speeds (OEM was always fine on the move).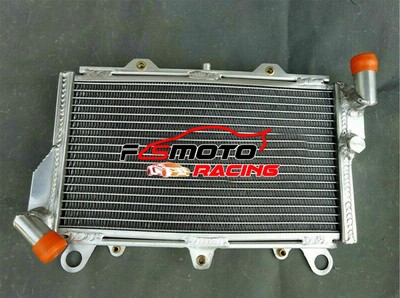 FWIW it makes riding so much more pleasurable when I'm not worrying about temperatures.
Summary
Despite being 19 row (vs 15)  I'm not convinced the radiator is as effective as OEM, the temp gauge seems to climb faster when you hit the city (no fan).  The rationale that fits (from an engineer) is more rows means slower fluid speed through the radiator, but faster is better. Took me a while to get my head around that but the physics makes sense, maximum heat exchange is when there is a maximum heat difference.
Where the extra rows works is with the fan.  So this means that ONLY replacing the radiator might make your cooling system worse, not better.  However other owners generally consider it an improvement, and the reality is that OEM is no longer available, so unless you fork out for the japanese version there simply isn't any other easy alternative.
? - 2013
Previous owner also lived in Adelaide (North) but I just can't recall any specific.  He also had a Yamaha and simply wasn't riding the bike.
I do remember the bike had custom plates something like: GPZ-A8, he kept it of course.  I recall he did say I could re-register with these but when I got to Service SA and went to register the bike they said nope, these were not available.  Wasn't that fussed!
Hagon Shock
Installed.  Not sure of exact model but looks exactly like this.  Very firm ride especially with the Dunlop RS tyres so in Dec 2020 I dropped the preload by two complete turns, flipped the chain adjusters to lift the bike back up.
GPz900R (ZX900) Database
Number of owner contacted & confirmed bikes.
About the Site
My family loves older vehicles, the newest one we own is 2003!  But I am acutely aware of the ownership complexities especially:
they often need more 'hands-on' mechanical work &;
there often isn't any local expertise from the service centres;
there is often no new parts available from the manufacturer;
parts often have to be sourced 2nd-hand or from overseas.
So we often end up doing a lot of the research & work ourselves and this information gets stored either locally with the bike or online forums - although finding the useful parts in these forums isn't always simple.
The original goal of the site was simply somewhere for me to record service work & contacts on my GPz900r so that my kids (the one that likes bikes anyway!) could easily access it - it doesn't concern me if it was publicly available.
I then realised that with this online structure in place I could also offer it to other owners, and the site could potentially expand to record other owners experiences and expertise , meaning we can learn from others but also pass on this knowledge to subsequent owners of these wonderful motorcycles.
At least Covid-19 has given me plenty of spare time to pursue my passion for the motorcycle!
Location
Adelaide
South Australia
Email
gpz900r@motoshoot.com.au
Timeline
1983 - Honda XR200
1984 - wanted a GPz
1985-2013 - cars+family
2014 - finally got one!
Disclaimer
The information provided on this site (or links) is personal experiences from non-professional home-mechanics, so neither it's accuracy nor it's validity can be confirmed.  If you need professional advise please visit your local Kawasaki dealership or a qualified industry professional.
Like riding any motorcycle, at the end of the day the only opinion that really counts is your own!