Owner Sites
From contacted owners.
MuzWaaMan - A8 Australia
Note: bike was sold in 2014 to a new owner (in QLD) but this is still a very useful site.
Nice info on some modern mods you can relatively easily do to the bike, especially changing the rear end to a  wider 17″ rim from the ZZR600. When I had to replace my rear wheel I pondering the change myself.
Personally I find the overhang of the rear frame looks a little different with the smaller diameter 17″ wheel compared to the more OEM-diameter but far more complicated 636/ZX10 conversion by WrenchMonkees, but there is no question this is a much simpler change, you still get a much wider choice of boots and from the rear it looks waaaaay more modern.
CLICK TO OPEN LINK IN NEW TAB
The Flying Banana - A6 - Australia
This bike was sold in 2003 but has some useful information and owner experiences.
Click to open link in new tab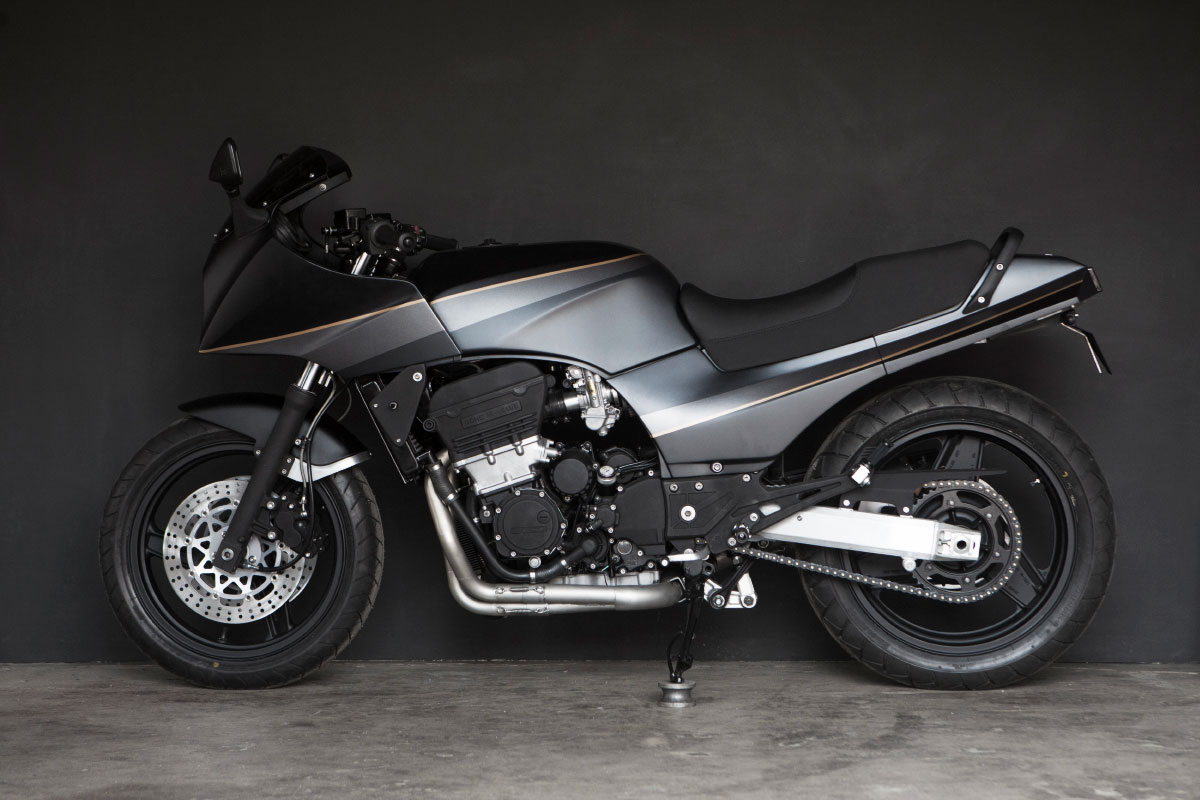 WrenchMonkees - A2 - Denmark
An upgraded & modernised GPz900r but keeping it all within reason and maintaining the original design lines of the bike.
Of grat interest was the upgrades – installation of a 973cc kit – googling shows you can still get Wiseco 972cc kits – but japan.webike now suggests that big is a bad idea as there are no longer any stock Kawasaki cylinders?.  Hmm.  Not something I would do just because, but when my engine does need a rebuild maybe split the difference and go forged pistons.
The ZX-10 rear wheel takes the rim width from 3.5 to 6 and probably a 190/55/17 tyre – which is a massive increase in width and only ~30mm reduction in diameter, so the side profile of the tyre and the bike still looks similar, especially with the modified swing-arm from ZX636 design still looking close to original.  The bigger tyre also will have a bit more give in it, hopefully softening up the ride a tad without compromising handling. Seriously good and sympathetic upgrades IMHO.
I contacted Per.N at Wrenchmonkees who helpfully provided a bit more info on the mods.
Hi Adrian.
Great idea. Hope you'll have many GpZ 900 owners onboard : )
A "plug-in" solution is not an option. Sorry.
Too much work, and can't remember all the details, but :
The ZX636 swingarm was chosen simply because it looks good.
Midsection of the "front part" was cut out and width was trimmed, to make it fit in the frame.
New seals and two sets of pin bearings on each side, was installed, to match theGpz 900 inner bearing "tube" and Gps 900 axle.
Shock mount on the ZX636 swingarm is off-center / asymmetric, as the shock on the 636 is mounted some centimeters towards the left / chain side.
But the mount is very wide and can be machined down so it will fit the stock link from the Gpz 900.
I think we used some parts from the ZX636 link and some parts from the Gps 900 link, something about bolt sizes and bearings…but can't remember exactly, sorry..
So…swingarm in place, and an adjustable YSS monoshock replaced the stock Gpz item. Can't remember the length, sorry.. 
ZX10 wheel including the ZX10 sprocket carrier and bushing fits without a problem in the ZX636 swingarm, I seem to recall that the chain line / left side was just right.
And maybe we replaced the wheel bearings to fit the ZX636 wheel axle, but again, not sure..
Rear brake caliper and bracket is also ZX636, and the TRW disc is the smallest available diameter for the ZX10 wheel, which happened to be the same as the ZX636 : )
Chain is 530.
CLICK TO OPEN LINK IN NEW TAB
CPMS's Gpz972refi - A4
A really comprehensive 'sleeper' rebuild of an 1988 GPz including big bore kit and fuel injection.
Feel free to connect to the FaceBook page for more detail.
CLICK TO OPEN LINK IN NEW TAB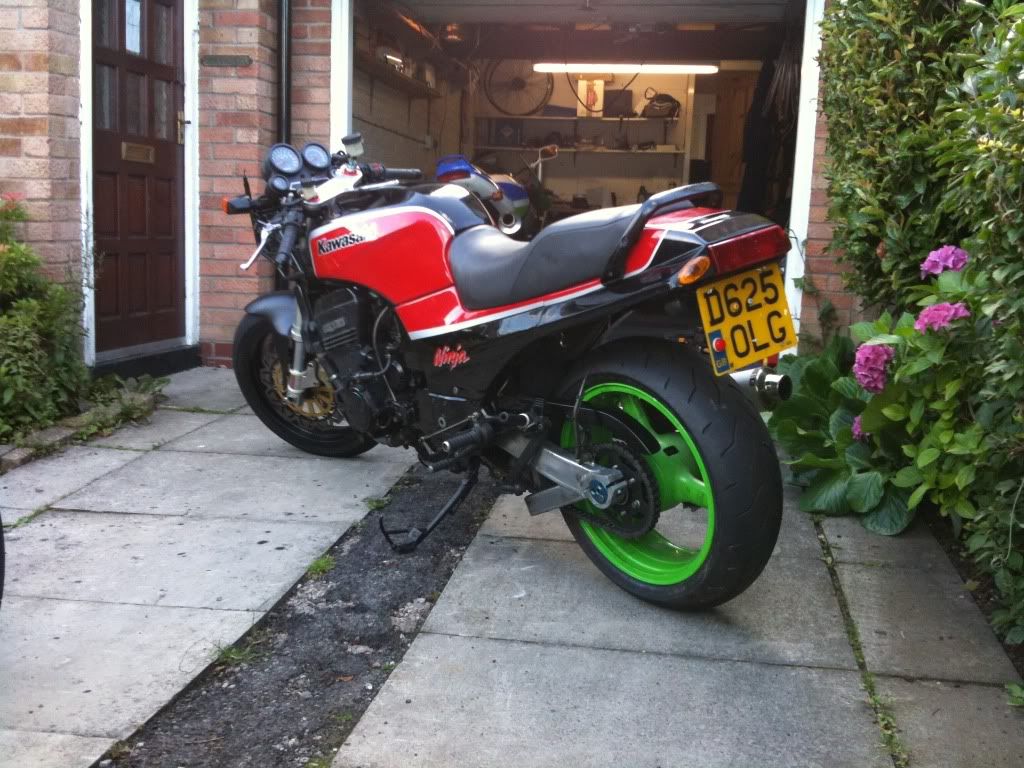 tsoldrin - A4
John.F is a member of customstreetfighters and has a really informative page on the modifications he has made to a cheap GPz900r he picked up on evilbay including installing a GPz1110e (1995) engine and fuel injection.
From this pageI have contacted bergman at zrxoa.org who can provide you (for a fair & reasonable fee) a CD with the custom front bracket that you need to fit these engines into a GPz900r frame. This bracket is required because although these engines are based on the GPz900r they are not used as a stressed member of the frame therefore do not have the matching upper frame mounting points cast into the head.
That would be too easy….
CLICK TO OPEN LINK IN NEW TAB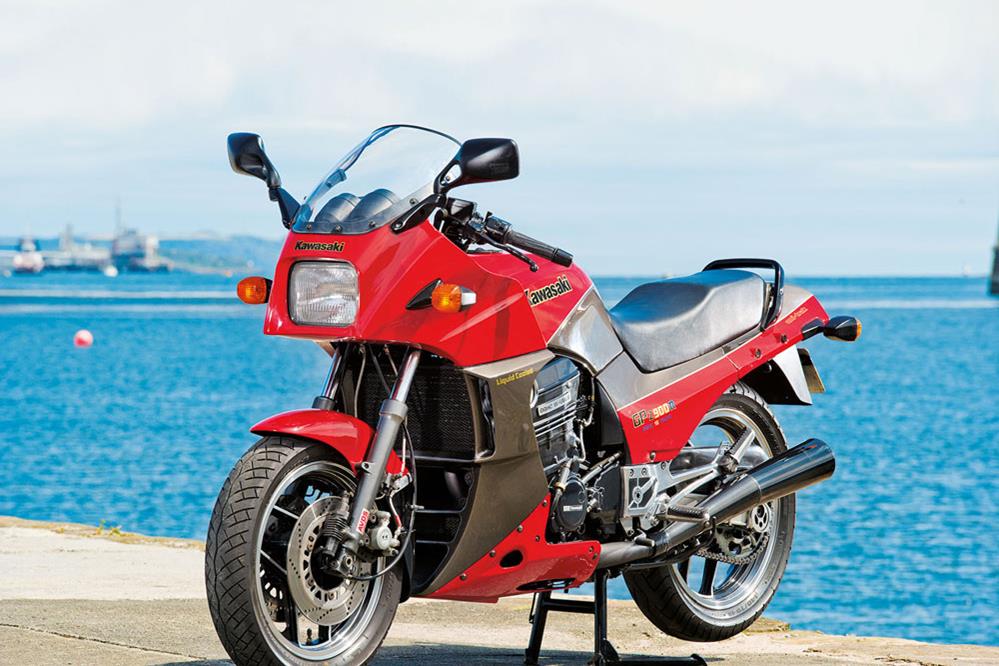 Ian B. - A1 - Scotland
Ian B. is a member of Kawasaki GPz900r Owners and in 2015 MCN did a really nice write up of his A1. He also takes some fab photos of the old girl as well!
CLICK TO OPEN LINK IN NEW TAB
Ride Restorers
In 2020 RideRestorers began rebuilding a GPz900R with comprehensive YouTube videos.
CLICK TO OPEN LINK IN NEW TAB
Some more unconfirmed but interesting sites I have found usually showing highly modified bikes.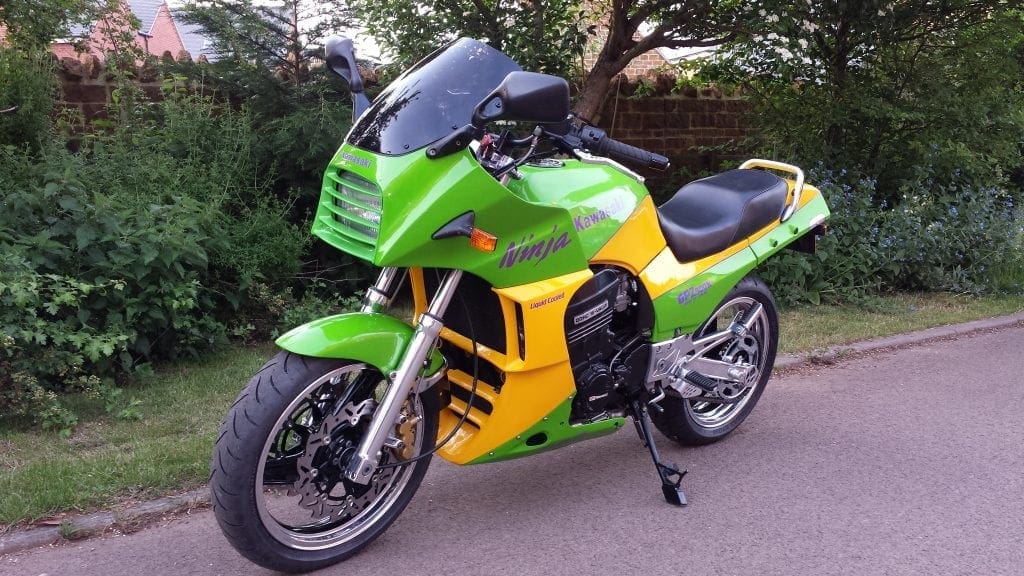 Simon Friends 1986
Nice article by Classic Mechanics showcasing Simon's reborn 86.
CLICK TO OPEN LINK IN NEW TAB
Icon - Old Ghost
Merchandise company Icon rebuild old bikes for promotion and marketing – this is their take on th GPz900r.
AC-Sanctuary
The japanese have always shown tremendous love for the GPz900r, ans AC-Sanctuary have some incredible examples of rebuilt custom Ninjas. Perhaps a bit left-field for me, but still wonderful.   Enjoy!
Motocrew - Germany
Another very cool cafe racer rebuild from the crew at Mafia Moto Crew Germany. Click the link for their FaceBook page full of amazing stuff.
Technically it would be interesting to know how the bike handles at low speed (it's a cafe racer!) and if the modification to the rear has actually increased the wheelbase or is that just an optical illusion.
Also good to know of a link to a local (German) 4-1 exhaust supplier, and it's nice the way it all terminates before the rear wheel,  IMHO anyway!  However I'm not convinced it would fit under the fairings……
What was interesting was that one of the reasons they chose the GPz900R was because you can easily remove and replace the rear sub-frame because it isn't part of the main frame nor is it permanently connected. From what I gather you aren't allowed to modify any welded frame (load bearing or not) in Germany, so that likely really limits the bikes you can modify.
I can see the pros and cons of this rule and it does raise an interesting discussion on major motorcycle modifications.
Whilst we are all backyard experts and many of us may have related mechanical skills, I doubt many of us are motorcycle engineers nor do we have access to FEA (Finite Element Analysis) to prove the engineering of modifications. I can also speak from experience in commercial boats where you simply can't modify anything structural without significant documentation and analysis.  And I also understand the difficulty in engineering welding – there's just so many variables its almost impossible to accurately document with old frames.
So maybe rules that ensure the original parts aren't modified aren't such a bad thing, and I can understand why authorities have them in place – no matter how frustrating that might be to custom builders.
GPz900R (ZX900) Database
Number of owner contacted & confirmed bikes.
About the Site
My family loves older vehicles, the newest one we own is 2003!  But I am acutely aware of the ownership complexities especially:
they often need more 'hands-on' mechanical work &;
there often isn't any local expertise from the service centres;
there is often no new parts available from the manufacturer;
parts often have to be sourced 2nd-hand or from overseas.
So we often end up doing a lot of the research & work ourselves and this information gets stored either locally with the bike or online forums - although finding the useful parts in these forums isn't always simple.
The original goal of the site was simply somewhere for me to record service work & contacts on my GPz900r so that my kids (the one that likes bikes anyway!) could easily access it - it doesn't concern me if it was publicly available.
I then realised that with this online structure in place I could also offer it to other owners, and the site could potentially expand to record other owners experiences and expertise , meaning we can learn from others but also pass on this knowledge to subsequent owners of these wonderful motorcycles.
At least Covid-19 has given me plenty of spare time to pursue my passion for the motorcycle!
Location
Adelaide
South Australia
Email
gpz900r@motoshoot.com.au
Timeline
1983 - Honda XR200
1984 - wanted a GPz
1985-2013 - cars+family
2014 - finally got one!
Disclaimer
The information provided on this site (or links) is personal experiences from non-professional home-mechanics, so neither it's accuracy nor it's validity can be confirmed.  If you need professional advise please visit your local Kawasaki dealership or a qualified industry professional.
Like riding any motorcycle, at the end of the day the only opinion that really counts is your own!